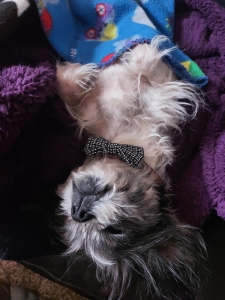 Oh Trudy!
Trudy came into RSPCA care in a very unhappy state. She had mammary tumours, rotten teeth and very matted hair. She needed an incredible amount of veterinary treatment. Dealing with all of these issues took time and two operations. Whilst under the care of the vets she won people's hearts and found herself a new home with a member of staff. We are all so happy with the outcome….
"She is an absolutely adorable scruffy little dog, with a huge and amazing personality and is absolutely loved to bits in our household!! She really has fitted in well with my cat and my other dog.  She has a real healthy appetite, is gaining weight and all her fur is now growing back. She is really gentle with my 3-year-old niece who adores her. 

Trudy

just loves to have lots of fuss and hugs. She is a very active, playful and energetic girl and it is so lovely to see her playing with her toys and Bruno!  Considering Bruno weighs nearly 40kg, and 

Trudy

 is just under 7kg she definitely rules the roost!!!
She loves nothing more than a snuggle with either myself or my partner, and if were not available then she will gladly snuggle up to Bruno!"